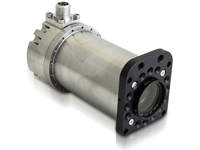 Kongsberg Maritime Camera Group has designed, manufactured & delivered a new underwater video camera for use on an advanced subsea Remote Pipeline Repair System (RPRS). The cameras are specifically designed to monitor the welding arc and welding pass in an unmanned hyperbaric welding habitat, when operating to depths of 1,500msw.

The camera has been extensively tested & qualified for use in an argon gas environment during welding operations. An extremely wide dynamic range (WDR) image sensor is used, which provides the RPRS operating team real-time close-up viewing of the welding process while at the same time allowing detail of the adjacent welding pass to be seen with minimal image/visual degradation from the intensity of the welding arc.

The camera's pressure housing is constructed from titanium alloy, and a sapphire front port protects the lens from damage. As space is limited in the vicinity of the weld, the camera was designed to be as compact as possible, measuring just 105mm in length and 56mm in diameter.

Martin Tanner, Systems & Projects Sales Engineer, Kongsberg Maritime Camera Group comments: "We are very proud to work on this unique project and are satisfied that the final product we delivered is of the highest quality. This project was the perfect platform for our design team to showcase their capability and they did not disappoint."