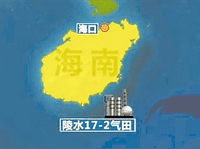 Chinese operator CNOOC Ltd is still weighing on options to develop its self-financed deepwater gas field Lingshui 17-2 in the western part of the South China Sea.

The company has approached international contractors for initial discussions about the development of its large Lingshui gas play, which have come out with two proposals – FLNG or semi-submersible platform with subsea production system and an export pipeline. Sources said the oil price slump and high building costs do not justify the FLNG option.

CNOOC Research Institute, which is spearheading feasibility studies for the Lingshui development, is looking for cheaper alternatives but now seems to favour a subsea production system tied in to an FPU with an export pipeline linked to an existing onshore terminal. CNOOC Ltd's in-house engineering centre has issued requests to subsea equipment providers such as FMC to quote prices for subsea equipment needed for the development. The subsea production system will exploit four gas structures — Lingshui 17-2-2, Lingshui 17-2-3, Lingshui 17-2-4 and Lingshui 22-1-1 — that together form the Lingshui 17-2 gas complex.

On April 22, the third version of China Deepwater and Subsea Technology Summit (CSTS 2015) is to be held in Shanghai, it will feature special session focus on China's deepwater development especially on the new–found block and its demand on subsea equipment and technology. Intelligent colleagues from operators, contractors and venders will cluster to discuss how to tap new technologies and solutions to maximize efficiency for operators.

The 2015 version will feature three sessions highlighting how oil price is affecting deepwater projects, market fundamentals, technology and solutions that cover subsea production and processing systems, riser technology and IRM. The last session will typically focus on China's deepwater development and its demand on subsea equipment and technology.

More than 30 senior leaders, project managers and technical experts from CNOOC (China) Ltd, CNOOC Research, CNOOC Energy Technology, COOEC, OneSubsea, Oceaneering, MSP/DRILEX have confirmed to attend and will deliver speeches to share their advanced technology and products.

Under the current situation of crude oil drop, CSTS 2015 is a place where operators, subsea equipment vendors, and facilitators in Asia Pacific to display advanced subsea technologies and efficient solutions, promote technical exchange and corporation, and enhance project efficient and economic for offshore oil and gas E & P.