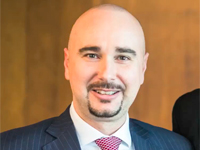 David Cannafoglia has been appointed Director of Alstom Transport site in Bologna. The plant is Alstom's worldwide centre of excellence for signalling systems and employs around 600 people.

Aged 41, Cannafoglia started his career in railway infrastructures in Venezuela, Bulgaria and Romania for major Italian civil works companies. Before joining Alstom, David developed his competences in signalling in Ansaldo STS, managing signalling projects in Libya, USA, Brazil and UAE, where he has been Principal Program Manager and Branch Director.

Among other projects, D. Cannafoglia will be responsible for the delivery of important projects at international and local level, as the replacement of the current railway signalling system in eastern Denmark and the node of Rome metro lines.