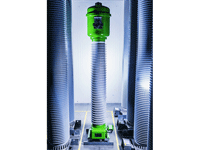 At the 2015 Hanover Fair, Alstom is presenting two first high-voltage applications using g3 (green gas for grid), a gas mixture that can replace SF6 for high voltage air-insulated (AIS) or gas-insulated switchgear (GIS) applications. SF6 is a potent greenhouse gas commonly used as an electrical insulator. In August 2014, Alstom became the first company in the world to offer the electrical industry a technically and economically viable alternative to SF6.

The first application is a pilot project for a 420 kV g3-insulated busbar1. Alstom has been awarded a contract by the United Kingdom's National Grid Electricity Transmission PLC to trial, as part of an innovation project, a 420 kV g3-insulated busbar for use at temperatures as low as -25°C. The 300 meter-long line will be located in Sellindge, in the South East of United Kingdom and will be commissioned by mid of 2016. National Grid is strongly committed to managing its environmental impact, actively supporting initiatives to reduce SF6. By choosing this promising technology as part of its planned network re-enforcement, National Grid demonstrates its investment and efforts towards greener solutions for the grid.

The second application is a 245 kV current transformer type SKF using g3. This high voltage equipment for outdoor applications, displayed at Hanover Fair, uses g3 as insulation medium, with the capability of reaching temperatures as low as -30°C. The current transformer protects substations by providing accurate and reliable current measurements used for metering.

"After having launched g3 technology less than one year ago, it is a great achievement to present the first g3-enabled high-voltage equipment and be selected by one of our long-standing customers to supply a revolutionary environmentally-sound solution," said Philippe Ponchon, Vice President Product Marketing, Alstom Grid.

Alstom's SF6-free solution, g3, is a climate friendly solution – with a global warming potential (GWP) 98% lower than the GWP of SF6, which is at the top of the list of six gasses targeted by the 1997 Kyoto Protocol to reduce greenhouse gas emissions worldwide. Non-toxic and non-flammable, g3 is safe to handle and has no impact on ozone depletion. With technical performances comparable to SF6, g3 is a suitable technology for the development of a new generation of clean high- and ultra-high voltage equipment. Tests have been successfully performed on actual high-voltage equipment, in compliance with international standards.

These first applications are precursors to future developments towards larger ranges of g3 insulated high voltage products.

1 A gas-insulated busbar is essentially a concentric system of cylindrical enclosures and conductors, insulated with a pressurized gas.