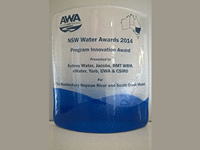 BMT WBM (BMT), a subsidiary of BMT Group Ltd, has announced that the Hawkesbury-Nepean River and South Creek model, developed for Sydney Water has been awarded the Program Innovation Award at this year's Australian Water Association's (AWA) New South Wales (NSW) Awards. BMT developed the TUFLOW FV (estuarine and riverine) component of the model, a core modelling tool which is used in many environmental modelling projects.

Sydney Water is Australia's largest water utility, supplying water, wastewater, recycled water and some stormwater services to over 4.6 million people. As part of its operations, Sydney Water releases tertiary treated wastewater from several locations to the Hawkesbury-Nepean River system, the major river system in the Sydney region being some 250 km in length and draining an area of approximately 12,000 square kilometres.

Sydney Water required numerical hydraulic and water quality models of the Hawkesbury-Nepean catchment and river system, primarily to assist in developing treated water management strategies into the future. BMT, under the project lead of Jacobs, and in collaboration with Yorb, The University of Western Australia and CSIRO developed these models.

Tony McAlister, Dr Michael Barry, Rob Holmes and Tony Weber from BMT were responsible for construction of the riverine model, which was fully three dimensional and included all hydraulic (e.g. weirs and tidal action) and water quality processes, including nutrient, sediment, oxygen, algal and microbial dynamics. The model was built over the entire river stretch and calibrated to a range of different data sets to a level that has allowed Sydney Water to use the model for its intended purpose. This was one of the largest and most complex riverine and estuarine numerical models ever delivered in NSW.