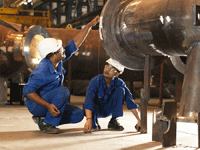 Alstom and NASL have been awarded a contract worth approximately 26.6 million euro (INR 2067 million) by Gujarat State Electricity Corporation Limited (GSECL) to renovate and modernise two steam turbines at the Ukai and Wanakbori thermal power stations, both situated in Gujarat, India.

Alstom will perform full shaftline retrofits of the 200 MW BHEL-supplied LMZ design steam turbines at unit 4 of the 1350 MW Ukai power station and unit 3 of the 1470 MW Wanakbori power station. The retrofits will increase turbine efficiency by around 14% from existing operating conditions thereby reducing coal consumption and CO2 emissions. The scope of each project includes engineering, supply, erection, commissioning and testing. Equipment will be manufactured at Alstom's facilities in India and Poland. The projects are scheduled to be commissioned in 2017.

Commenting on this contract, Steven Miller, Managing Director Thermal Services Middle East & India said, "This contract clearly demonstrates the customer's confidence in Alstom's leading retrofit solutions. Improving efficiency of aging coal power plants not only boosts the competitiveness of these units, but because coal is the largest fuel in India, is also key to limiting climate change."

There are more than 50 similar, BHEL-supplied LMZ design, 200/210MW steam turbine units in India that can benefit from modernisation. Such projects contribute to India achieving its goals under the 'National Mission on Enhanced Energy Efficiency'.1

1National Mission on Enhanced Energy Efficiency (NMEEE) is an Indian government initiative proposed to address national problems of inefficient energy use. It is one of eight proposals created by India's National Action Plan for Climate Change.