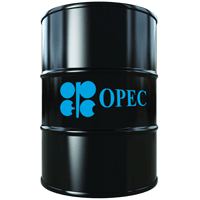 Crude oil futures ICE Brent and Nymex WTI moved up in April to a 2015 high, with ICE Brent above $60/b for the first time this year. The rise was driven partly by the notion that the supply glut, that caused prices to fall by half since last summer, may be easing, with higher demand projected ahead of the peak US driving season. The oil complex also rallied on a slowdown in US refinery activity that boosted refined product futures, while ongoing geopolitical tensions pushed crude futures higher. Oil buyers also fuelled the rally with bets that US crude output will shrink further after two straight weeks of decline.

The weak dollar additionally supported oil and other dollar-denominated commodities. The euro improved slightly against the US dollar, while the European Central Bank (ECB) reported the first y-o-y increase in bank lending to the private sector in almost three years, which was then followed by a weaker-than-expected y-o-y US GDP growth figure for 1Q14 of just 0.2%. Oil futures were also bullish after US government data showed crude stocks falling in Cushing, Oklahoma, for the first time since early December. The rally has been tempered, however, by a stubborn global supply glut. For the month, ICE Brent first-month futures settled up $4.20 or 7.4% at $61.14/b while Nymex WTI jumped $6.77/b or 14.2% to finish the month at an average of $54.63/b. Compared with 2014, Nymex WTI and Brent were lower by $49.59/b and $51.55/b at $49.93/b and $56.40/b, respectively. On 11 May, ICE Brent stood at $64.91/b and Nymex WTI at $59.25/b.

Hedge fund and other money managers raised their bets on rising Brent crude oil prices, which hit a new record in April. Speculators increased net long positions in ICE Brent futures and options by a hefty 57,958 contracts to 276,888 m-o-m, InterContinental Exchange (ICE) data showed, the highest level since records began in 2011. The percentage of long bets to short positions had reached levels, which in the past were followed by a drop in prices. The long-to-short ratio reached 6.4; such an extreme situation has only been seen three times since 2011. All three times brought a strong correction to the market.

Meanwhile, US Commodity Futures Trading Commission (CFTC) data showed another increase in speculation net length in WTI futures, with the outright level back again to that last seen at the end of July 2014. However, the main boost to net length did not come from fresh longs but from a closing of short positions. M-o-m, net length in WTI futures increased sharply by 94,764 contracts to 258,131 lots as a result of a reduction of 80,811 short positions and an increase of only 13,953 long positions. Moreover, total futures and options open interest volume in the two markets decreased 27,506 contracts to 5.27 million contracts.

The daily average traded volume during March for Nymex WTI contracts increased by 26,965 lots to average 839,885 contracts. ICE Brent daily traded volume fell sharply by 30,446 contracts to 690,687. The daily aggregate traded volume in both crude oil futures markets decreased by 3,480 contracts to around 1.53 million future contracts, equivalent to around 1.5 billion barrels per day. The total traded volume in Nymex WTI was down at 17.64 million contracts, and ICE Brent was also down at 14.50 million lots. Trading days in April were one day less than in March.