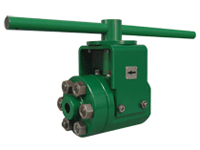 Emerson Process Management has introduced the Fisher Z500 line of metal-seated ball valves to its severe service portfolio.

Fisher Z500 metal-seated valves are engineered to withstand higher temperatures, pressures, and more erosive conditions than a standard on/off ball valve, providing increased reliability and protection of critical assets in demanding applications. A bi-directional sealing design offers a unique solution to process back pressure and shutoff requirements in both flow directions, safeguarding control valves and other equipment in the line.

Fisher Z500 valves are designed with an integral metal seat and self-energized metal body gasket to help eliminate leak paths and withstand extreme temperature changes. Live-loaded packing, side-mounted brackets, and fixed centerlines help reduce side loads on the packing and decrease overall wear for a longer service life. This addition of on/off valves to the Fisher portfolio complements the existing control valve offering and helps ensure seamless integration between products.

"The combination of isolation valves and control valves gives our customers the opportunity work with a single solution-provider to achieve the process protection and reliability they need for their critical applications," said Kevin Meyer, president of Emerson's Fisher Valves & Instruments business. "We feel that adding another quality product to our wide-reaching network of Emerson sales offices and service centers around the world will not only give our customers a comprehensive valve assembly, but the local support to go with it."