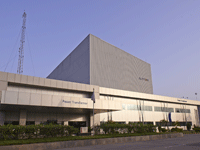 Alstom T&D India has been awarded three new contracts worth approximately €33 million (INR 2317 million) by Powergrid Corporation of India Limited (Power Grid) to supply transformers and shunt reactors for 765/400kV substation situated at Agra in Uttar Pradesh and spare units of 765kV transformers and reactors as part of Eastern and Southern Region Strengthening Schemes. These contracts demonstrate the company's expertise in transformers and reactors domain. The products for all these contracts will be delivered from Alstom T&D's world class factory at Vadodara in India.

Once commissioned, these substations at Agra will help transmit power from the Lalitpur Thermal Power Plant to meet the growing demand for electricity in the northern region of the country.

Rathin Basu, Managing Director, Alstom T&D India said, "We are pleased that Power Grid continues to repose faith on our products, technology and capabilities to strengthen the transmission backbone of the national grid. Alstom Grid is one of the major technology providers in the area of 765kV AC, 800KV HVDC and Automations to Power Grid and thus a strong contributor in its ambitious plan for building a solid national grid. Through our world class transformer/reactor facility at Vadodara we continue to offer our customers with reliable and advanced offerings which have a vital role in developing the transmission network of the country."

With strong references up to 800 kV and 2750 MVA in major power networks worldwide, Alstom Grid is one of the world leaders in the manufacturing of electrical power transformers and reactors.