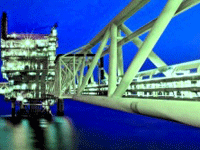 Changing gas compositions as a result of ageing North Sea fields is leading to more and more oil and gas operators facing serious measurement challenges when calculating and reporting the amount of gas produced. The AGA-8 American Gas Standard, the established industry methodology for calculating fluid properties, is recognised as limited and invalid when gas compositions fall outside the Standardís gas quality pipeline specification.

Having now carried out independent reviews on a number of fields, with some exhibiting measurement uncertainties 10 times higher than the 0.1 per cent quoted in the AGA-8 Standard, NEL has recognised the need for a collaborative approach to address what is a growing industry-wide problem. This issue has wider connotations when considering the large amount of global fields in the maturing phase. However this issue is not only restricted to ageing and depleting fields, but also affects complex fields that naturally exhibit non-standard gas compositions.

NEL now invites industry partners to join a new Joint Industry Project (JIP) to collectively address these challenges. The JIP will put industry on the path to developing new equations of state and standards that are fit for purpose and representative of todayís North Sea field operating envelopes and compositions. It will also reduce financial exposure and boost stakeholder confidence in gas production figures.