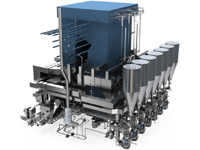 Alstom has been selected by the Consortium of HEI and ACWA Power (who have been announced as the Preferred Bidder) as the lead EPC contractor, in consortium with Harbin international to build in Dubai the first ultra-supercritical (USC) coal power plant in the Middle East. Subject to the financing closure of the project by the development consortium composed of ACWA Power and Harbin Electric International, the plant will start commercial operation by March 2021 with a net output of 1.200 MW, representing a 12.5% boost of the Dubai current grid capacity.

The plant will be fitted with Alstom's market-leading ultra-supercritical technology (boiler and steam turbine generator), and will have full dual fuel capability, able to fire sub-bituminous coal as well as natural gas as back-up fuel. It will also include advanced environmental control systems such as electrostatic precipitators (ESP) and seawater flue gas desulphurisation (SWFGD) systems. These will enable to achieve NOx, SOx and particulate emission levels that are twice below the European guidelines, making it one of the cleanest coal-fired power plants available. Additionally, the plant will be CO2-capture ready and shall comply with the most stringent grid code requirements from Dubai.

"We are delighted to have been selected as preferred bidder for this major contract which demonstrates the strength of the company's technical capabilities and capacity to offer high plant efficiency at low flue gas emissions." said Andreas Lusch, Senior Vice-President of Alstom's Steam Business. "Alstom's competencies in Engineering Procurement and Construction as well as the project team's expertise will ensure the project is managed in an exemplary manner. We are eager to continue supporting Dubai to grow and diversify its power generation infrastructure."

Alstom's ultra-supercritical technology enables the power plant to run at a higher steam temperature and pressure than regular coal-fired plants in order to improve the plant efficiency and to decrease stack-emissions, particularly CO2 per unit of fuel burned. The power plant will produce sufficient electricity to power nearly 250'000 households in Dubai.

Alstom's steam turbine technology is already generating power, including steam extraction for desalination, at DEWA's Jebel Ali power station. DEWA is also making use of Alstom technology for energy management systems, including high-voltage substations and the first smart grid center in the Middle East. In addition, Alstom has already been supporting for the past 35 years the protection of the environment in Dubai with its gas & fume treatment technologies for dust removal and capture of acid gases, as implemented into the aluminium smelter of the Emirate.