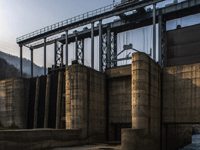 Two hydropower projects emerged recently as great achievements for Alstom in India: the manufacturing of the four new runners for the Chhukha Hydro Power Plant (Bhutan) and the different stages of manufacturing for the Jorethang Hydro Power Plant (Tenlangana, India).

These two contracts show how Alstom can deliver a power plant from designing to commissioning or simply manufacture elements for an upgrade, following what was already installed on site.

In February 2014, the Bhutanese corporation Druk Green selected Alstom to run the upgradation of the Chhukha HPP's four runners. Inaugurated in 1988, The Chhukha power plant is one of the biggest in Bhutan. Most of its electricity production is exported to India. The very first runner was manufactured in a record time of 135 days at the Alstom Vadodara factory, where a team of 10 welders and 12 grinders worked on it full time. It was then sent to site and arrived there ahead of schedule in August 2015 while the three other runners were in the last stages of manufacturing at the factory. This project has been a great opportunity for Alstom to show its efficiency time-wise and quality-wise. Alstom hopes to be selected for other projects in India with Druk Green. Bhutan is a country where hydropower is continuously expanding. The Kingdom of Bhutan, in cooperation with India, plans to bring electricity to the last 40% of the country's rural population who don't have access to it yet.

Alstom is also involved in different hydropower projects in India. One of our teams was asked to manufacture two 48 MW Francis type turbines for the Jorethang Hydro Power Plant back in 2009. On September 20th, 2015, the two units were finally synchronised in less than five hours. The two units, when reaching their maximum capacity of 96 MW, are expected to generate around 444 GW/h per year on the Eastern India regional grid. Alstom had been involved in this project since its very beginning and will supervise maintenance with the customer Dans Energy for the next two years. Collaboration with Dans Energy will continue with another project: building the 97 MW Tashiding Hydroelectric Plant.

India, alongside with South Asia, is a growing market and presents many opportunities for Alstom. We are currently involved in several projects like the commissioning of the Tehri variable speed pumped storage power plant (India), which will be the first one of its kind in India.