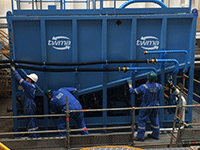 Global integrated drilling waste management and environmental services firm, TWMA, has been awarded two major contracts, building on a strong relationship with Maersk Oil North Sea UK (Maersk Oil) spanning more than a decade.

The projects, which are led by an Aberdeen-based team, involve work on the Culzean development – one of the largest gas discoveries in recent years in the UKCS – and the continuation of provision of innovative technology across Maersk Oil's Central North Sea operations.

To ensure the company continues to offer the best, most cost-effective and safe solutions available to the global oil and gas industry, multi-million pound equipment investments are being made. The new work will also result in the creation of up to 20 new jobs.

Neil Potter, Chief Operating Officer at TWMA, said: "We are delighted to have been selected to support Maersk Oil on these projects as they expand their drilling activity within the UK sector of the North Sea.

Our experienced, skilled team are working closely with Maersk Oil and have been since the award to carry out the pre-fabrication R&D activity needed for the Culzean operations. To date, this has included working on-site in Singapore with rig builder Hercules to develop solutions where we aim to use our proven technical know-how to design, manufacture and install best-in-class technology to handle Maersk Oil's drilling waste processing requirements.

"By delivering exceptional results that improve operational efficiency while maintaining a quality service over a considerable period of time, we have nurtured a strong working relationship with Maersk Oil. We are delighted to have been awarded a new scope of work on the prestigious, high-profile Culzean development and a renewed agreement for the continuation of our services across Maersk Oil's Central North Sea projects.

"Despite extremely challenging market conditions, TWMA has maintained high-levels of investment in R&D which is exceptional in the current climate and demonstrates our awareness of the need to continue to build on our strengths and offer the best possible integrated drilling waste management services and environmental solutions.''

The Culzean project involves TWMA providing drilling waste processing and waste management services for five years with the option of two one-year extensions.

Delivered using a 950kW electric drive within TWMA's proprietary TCC RotoMill and EfficientC equipment, the Culzean project will also see TWMA recruit up to 20 personnel to support the existing workforce within the engineering, commissioning and operations phase.

The second contract will provide existing drilling waste processing and management services for Maersk Oil's Central North Sea projects, again utilising the firm's TCC RotoMill and EfficientC technologies. The new agreement will continue for the next three years, with the option for two one-year extensions.