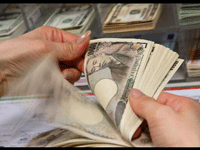 While continuing with its government-led support for the economy, the latest slowing developments highlight the ongoing fragility of the Japanese economy. Domestic demand is again weakening amid low inflation and declining real income. Exports are declining again and while the government has announced further stimulus measures, it remains to be seen how they will implemented, given the very high debt level the central government is dealing with. Mainly the domestic services sector is in an upswing and is supporting the economy. Given the extremely low unemployment rate, it may be expected that wage increases could soon be necessary, which again could filter through via rising consumption. Also, growth in China is expected to remain low and this may impact Japan's exports in the near future.

GDP growth in the 3Q has been announced to have declined by 0.8% q-o-q at a SAAR. This comes now after a decline of 0.7% q-o-q in the second quarter. While the first quarter rose by an impressive 4.6% q-o-q, the recent decline highlights the ongoing fragility in the economy. Importantly, low inflation, still constitutes a drag on domestic consumption. Inflation stood at 0.3% y-o-y in October, after 0% y-o-y in September. While the deflationary pressures from energy, food and also from the situation in China are obvious challenges, the figures (without energy and food prices) remain low – at only 0.8% y-o-y in October, lower than the September level of 0.9% y-o-y. Amid low inflation, real income is declining further. Average monthly earnings fell by 0.5% y-o-y in October, compared to September's level of -1.2%. This is the tenth consecutive month of decline. However, given the very tight labour market with an unemployment rate of only 3.1% in October, the lowest in 20 years, the expectation remains that this may soon turn positive.

Japanese exports slowed down again significantly. They now even declined in October by 2.2% y-o-y on a non-seasonally adjusted base. This comes after an already low growth level in September of 0.6% y-o-y. Industrial production remained negative for the third consecutive month in October. It fell by -1.4% y-o-y on a non-seasonally adjusted base. Domestic demand has been weak in the past months but turned positive to a considerable level of 1.8% y-o-y in October, after a decline of 0.1% y-o-y in September.

Positively, amid clear signals in the past months of some slow-down in the Japanese economy, the latest PMI numbers, as provided by Markit, point at a continued recovery in manufacturing activity. October's manufacturing PMI rose to 52.6, compared to 52.4 in November. However, the important services sector momentum is slightly decelerating, according to the PMI. It retraced to 51.6 in November from 52.2 in October.

Given the latest decline in the 2Q and the 3Q, the 2015 GDP growth forecast has been revised down to 0.6% from 0.8% in the previous month. While some upside from rising wages may support the economy, this remains to be seen. By anticipating some modest improvements in the coming year, the GDP growth estimate for 2016 remains unchanged at 1.2%.