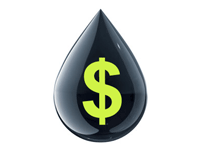 Indian oil consumption started 2016 on a solid note. Oil demand in January showed massive growth of more than 0.50 mb/d, which is roughly around 13% y-o-y, with total consumption remaining around 4.54 mb/d. This rise was led by strong demand for gasoline, fuel oil and diesel oil.

Indian gasoline demand rose in January, maintaining December's healthy growth levels of more than 50 tb/d. Gasoline demand increased by more than 50 tb/d, or around 11% y-o-y, in January. This was largely in line with the expected impacts of expanding twowheeler sales in the country. With domestic sales of more than 1.3 million units in January, two-wheeler sales recorded a rise of around 3% y-o-y, despite subdued overall car sales, marginally growing at around 1% y-o-y. A similar trend could be seen in fuel oil demand, along with an apparent lift in utility requirements for power generation, which increased by more than 50 tb/d or around 14% y-o-y.

Continuing with the positive momentum, diesel oil jumped by more than 0.12 mb/d or around 8% y-o-y. The ban on diesel trucks and large cars in main areas of the country seemingly had no impact on demand for diesel – at least during the month of January. Demand was obviously spurred on by overall developments in the economy, specifically in the manufacturing sector. Demand growth for diesel is anticipated to be elevated going forward as expectations for the economy remain positive, encouraging the manufacturing and construction sectors.

Total consumption of LPG remained above 0.60 mb/d, beating the seasonal norm in which demand for the products tends to ease, especially at the beginning of the year. LPG was higher by 25 tb/d or 4% y-o-y.

Total products demand in India is anticipated to grow by around 180 tb/d, or 4%-5%, in 2016, mainly as a result of better economic conditions in the country. This will promote steady growth for diesel oil and gasoline.

Indonesian oil consumption inched up during the month of December 2015. Product demand registered a rise of 40 tb/d from the levels seen in December the previous year, which equates to around 3% y-o-y. Total demand consumption for the country stood at 1.41 mb/d. The rise in oil consumption can be mainly attributed to better-thanexpected data in the manufacturing sector as well as in transportation sectors.

Cumulative data for the whole of 2015 hints towards flat performance, with oil demand growing by a mere 4 tb/d from a year before.

In Taiwan, total consumption growth for the month of December 2015 averaged 21 tb/d, or more than 2% y-o-y, and was supported by most products, with fuel oil and diesel oil rising the most. Cumulative data for the whole of 2015 indicates that oil consumption was 13 tb/d higher, or more than 1% y-o-y, than year ago levels.

Looking forward, the risks for 2016 in Other Asian oil demand growth are currently expected to be skewed to the upside as the outlook for the Indian economy suggests stable to improving economic activities. Transportation fuels are expected to be the main providers of growth. In other countries in the region, factors such as subsidies on transportation fuels, and the degree of their reduction, may influence oil demand growth. However, the lower international prices at this stage should moderate the impact of this.

Other Asia's oil demand grew by 0.43 mb/d in 2015. As for 2016, oil demand is forecasted to remain firm, hovering around 0.36 mb/d. However, this is lower than the levels seen in 2015.