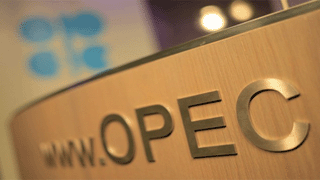 Canada's 2015 oil supply growth was lower than expected at 110 tb/d, down from 0.27 mb/d in 2014, to average 4.42 mb/d. Despite remarkable growth in oil sands output of 200 tb/d, half was offset by a strong decline from conventional oil production over the year. Canadian oil supply growth was revised up by 10 tb/d to 0.1 mb/d in 2015, based on updated national source historical data in 4Q15.

Canadian oil production in 2016 – despite an upward revision by 20 tb/d in 1Q16 – remains at growth of 90 tb/d y-o-y, to average 4.51 mb/d, unchanged from the previous MOMR. Oil sands output in January increased to 2.61 mb/d, 10 tb/d higher than in December. NGLs production in January recorded highest-ever levels at 0.85 mb/d, 15 tb/d higher than a month earlier. Nevertheless, conventional crude production in January declined by 9 tb/d to 1.25 mb/d, m-o-m. January total output increased by 20 tb/d, to average 4.71 mb/d, also the highest figure ever recorded. However, upgrader maintenance is scheduled for the coming months, during which lower output is expected.

There were 41 rotary rigs in April (10 oil rigs and 31 gas rigs) based on Baker Hughes' weekly report from 29 April 2016, down by 46 rigs (-53%), y-o-y. Of these, 30 are active in Alberta, eight in British Colombia and two in Saskatchewan. Moreover, one offshore rig was active in the province of Newfoundland.

Mexico's oil supply is estimated to have declined by 0.2 mb/d to average 2.60 mb/d in 2015, unchanged from the previous month. Annual oil production for 2016 is expected to decline at a slower pace of 0.13 mb/d, with average supply anticipated to be at 2.47 mb/d. Mexican liquids production in March was stagnant m-o-m, to average 2.52 mb/d, while oil output in 1Q16 was pegged at 2.54 mb/d, dragged down by 0.11 y-o-y. In March, crude oil saw a minor increase, while NGLs declined to 0.29 mb/d compared with a month earlier. Crude oil output from the KMZ complex was 0.85 mb/d lower in March, or 10 tb/d y-o-y, while production in Cantarell was down by 65 tb/d, compared with a year earlier at 0.18 mb/d.