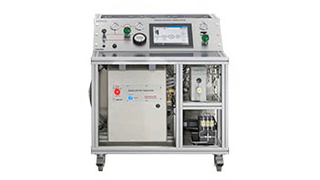 The Chandler Engineering Model 5600-AUTO Shear History Simulator greatly simplifies the process of preparing and loading water-based fracturing fluids into rotational viscometers. The rheology of fracturing fluids used by the oil and gas industry is affected by a range of factors and conditions, and shear history simulators have proven especially useful for determining how well these fluids perform in transporting proppants.

The process begins with a gel-based fluid that is placed into a pressurized supply reservoir that delivers the fluid to an injection pump. The fluid is pumped through a combination of tubes at various rates and durations to simulate pumping conditions experienced during fracture treatments. Pressure is applied to the reservoir via an air regulator mounted onto the face panel.

The gel pump is constructed of high-pressure, corrosion-resistant stainless steel and is driven by a servo motor that can deliver 0 to 140ml /min. An additional stainless steel, HPLC additive pump is able to deliver 20 ml/min of Crosslinker.

The Model 5600-Auto features 2,000 psi maximum operating pressure at ambient temperatures including; multiple tubing configurations, four shear history tube assemblies, convenient manifold connection to a Model 5550 viscometer, and panel-mounted computer with touch screen interface and automatic loop-flushing features.