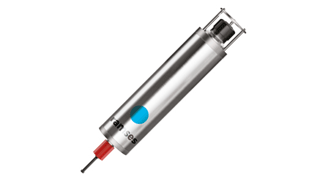 Ashtead Technology, a global leader in marine technology and subsea services has expanded its equipment rental pool following a significant investment in a state-of-the-art subsea navigation system which has been proven to deliver faster, more accurate results in the toughest environments.

The iXblue RAMSES is an acoustic synthetic baseline positioning tool with self-contained computing, for simple, efficient, real-time underwater navigation. Coupled with iXBlue inertial navigation system (INS), it delivers extreme precision in even the world's most challenging seas.

It can be used to track the position of subsea structures without the need for multiple transponders or umbilicals, enabling immediate and simplified mobilisation. Traditionally, achieving subsea accuracy required the deployment and calibration of subsurface equipment – an often lengthy and very costly process.

With the iXblue RAMSES system, an ROV can place a single beacon on the sea floor and achieve positioning precision, allowing for improved operational flexibility, significant cost savings, improved operational efficiency and higher levels of acoustic accuracy.

Allan Pirie, chief executive of Ashtead said: "Our existing pool of inertial navigation systems has proven to be extremely popular with our customers and we have enhanced our rental fleet to meet their growing demands.

"This investment underlines our commitment to the subsea market, by offering the latest, most efficient technologies available and will see our clients experience a more cost-effective, reliable solution for ROV and AUV navigation, offshore support, metrology, and demanding subsea applications across the UK and beyond."

A leading provider of navigation, positioning, and mapping solutions for challenging operations at sea and on land, iXblue's RAMSES offers a variety of new features, including a sparse-array positioning system and enhanced interoperability, making it more versatile, faster to deploy and easier to use – delivering tangible cost savings. The system can communicate with a range of third party transponders, allowing for deployment on existing sensor networks.

Brook Rodgers, iXblue's Regional Sales Manager said: "We are pleased that Ashtead has added iXblue's innovative, inertial-acoustic systems to its rental fleet. INS is being increasingly used in subsea operations to provide improved positioning data. The high level of accuracy and ease of operation of RAMSES makes it an ideal choice for a wide range of applications. We believe that our systems offer unrivalled performance and flexibility while maintaining the openness and ease of use which is vitally important to Ashtead and its customers."

Serving the subsea and onshore environmental monitoring and inspection sectors, Ashtead Technology provides a global reach and a local service from its facilities in Aberdeen, London, Houston and Singapore, with agents in Australia and the UAE.