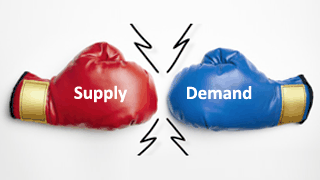 In the US, total liquids production is forecast to pick up only marginally by the beginning of 3Q17, with minor growth of 30 tb/d to average 13.43 mb/d, while it is expected to decline by 0.16 mb/d on average to stand at 13.46 mb/d for the whole year. Crude oil is estimated to decline by 0.55 mb/d to average 8.87 mb/d in 2016, then decline again by 0.23 mb/d to average 8.64 mb/d in 2017. Some of the declines in onshore crude will be offset by growth of 0.15 mb/d in the Gulf of Mexico. Nevertheless, growth for NGLs and biofuels output is expected to increase by 47 tb/d and 20 tb/d, respectively. The main component of US oil output, tight oil, is forecast to contract by 0.29 mb/d y-o-y.

US oil and gas companies will step up activity in 2017 as they start to increase their spending amid a recovery in prices. According to consultancy Deloitte, the bulk of activity will be focused on the completion business with very little investments going into exploration. A survey by the consultancy of 251 oil and gas industry executives, done between June and July, shows that 43% expect an increase in upstream capital expenditures (capex) next year, while 25% expect an increase this year. About 28% expect capex levels to remain unchanged this year and 27% think it will stay flat next year.

Canada is expected to be the third largest source of non-OPEC supply growth after Brazil and Kazakhstan in 2017, expanding by 0.17 mb/d m-o-m to 4.57 mb/d. The 2017 production forecast was revised down by 20 tb/d due to a base change. Growth will come mainly from the ramp-up of oil sands projects (Surmont 2, Christian Lake, Sunrise and Kearl), as well as new start-ups of heavy oil thermal projects (Edam East, West and Vawm) in 2017.

In Brazil, following three planned projects of Lula Central, Lula Alto and Lapa, of which two projects have been implemented with a total peak capacity of 0.38 mb/d in 1H16, Brazil's Petrobras, as of 2017, will begin seeking offers for the construction of seven new offshore oil platforms envisioned in its current investment plans. Petrobras has planned to add these seven FPSOs in the Santos Basin, including three in the Lula field – including Lula South (FPSO P-66) and Lula South Extension (FPSO P-68), two in the Buzios field, one in the Lapa field and one at the giant Libra area. Oil production is expected to increase by 0.25 mb/d to average 3.40 mb/d when these seven new projects materialize next year. Petrobras is seeking to ramp up production as part of a five-year, $74.1 billion capital spending plan announced in late September. It slashed investments from a prior plan by 25%, seeking to refocus on core operations.

In Russia, oil production growth forecast for 2017 has been revised up by 70 tb/d to average 10 tb/d y-o-y. Production ramp-ups of three new projects ? the VostochnoMessoyakhskoye (East Messoyakh) field, the Suzunskoye field and the Filanovsky field in the Caspian Sea are the main drivers for this revision. It is expected that Russian oil production in 2017 will reach 11.04 mb/d.

In the Caspian, according to the latest news, the start-up of the giant Kashagan field in Kazakhstan in late October 2016 will add new volume in 4Q16 and is planned to reach an initial plateau of 0.37 mb/d in Phase 1 by mid-2017. Therefore, Kazakh oil production growth is currently forecast at 0.22 mb/d in 2017.

In China, oil production, following a heavy decline in 2016, is expected to continue in the same direction but at a slower pace, dropping by 0.12 mb/d y-o-y to an average annual oil supply of 3.99 mb/d. Offshore companies plan to start up new projects at Chunxiao, Weizhou 11-4 North Phase II and Enping 23-1 in 2017, but the main stateowned oil companies have cut their capital expenditures as well as output.