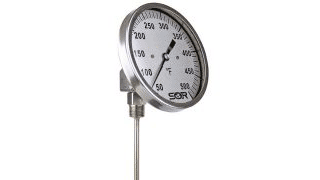 SOR Inc. continues to grow its Temperature Sensors catalog with the addition of Bimetal Thermometers. When accurate and reliable local indication of process temperature is required without the use of wiring or electricity, the SOR Bimetal Thermometer is the perfect solution. The benefits of the Bimetal Thermometer don't stop at its independence from wiring and power though! To account for corrosive environments this thermometer uses an all stainless steel construction. The, angle of the head of the thermometer, is adjustable to allow for easy viewing from any angle. A calibration screw is located on the back of the dial for simple recalibration. The gauge is hermetically sealed from the process, and is also silicone fillable to protect it from vibration. Additionally, the Bimetal Thermometer includes a five year warranty.

The SOR Bimetal Thermometer has an accuracy of 1% of its full scale. The case has IP67 and NEMA 6 ratings to protect the gauge from ingress. This thermometer uses 300 Series SS as the standard material of construction, and 316SS is also an option. Stem lengths can range from 2" to 80" and SOR can also provide a thermowell to protect the thermometer's stem from the process flow, if necessary. There are multiple dial sizes, lens materials, and mounting connections to choose from. More information on the SOR Bimetal Thermometer can be found on page 29 of the SOR Temperature Sensors catalog.

The SOR Temperature Sensor offering includes a complete line of thermocouples, Resistance Temperature Detector (RTD) sensors, thermowells, industrial assemblies, and specialty temperature sensors. SOR utilizes its broad industry experience, technical expertise, and state-of-the-art facilities to meet the temperature measurement requirements of its customers.