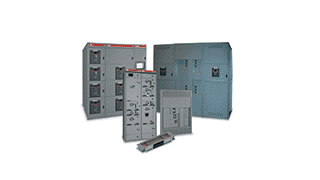 ABB has announced a significant launch of low-voltage ReliaGear® switchgear, motor control center, SafeT™ switchboard, SafeT™ panelboard and busway. The expansion of the range completes the full line, complementing ABB's medium-voltage switchgear, which includes ReliaGear® and SafeGear® brands. The launches represent more than $25 million research and development investment to bring ABB's global leadership in switchgear to the North American market.

The launch is part of ABB's expansion of its power distribution equipment portfolio, in which all medium- and low-voltage solutions are branded as ReliaGear for standard equipment and SafeGear for arc-resistant equipment.

"With this significant investment in low-voltage power distribution solutions, ABB now has the complete range for a one-line solution, from substation equipment to a cable tie," said Tarak Mehta, president, ABB Electrification Products division. "Our presence in the United States and Canada provides the market with a source for superior low-voltage power distribution solutions that are smarter, smaller, safer and more reliable."

The extended low-voltage ReliaGear offering is now available in the United States and Canada and provides world-leading ABB circuit breaker technology, which is UL® and cUL / CSA Listed and has American National Standards Institute (ANSI) certification. The solution incorporates either ABB Tmax or Tmax XT UL489 molded-case circuit breakers (MCCBs), or Emax 2 UL 1066 power circuit breakers, which are among the most advanced in the world. These circuit breakers enable the ReliaGear family of power distribution equipment to employ the latest data communications and automation technology. They occupy less space, improve safety, and increase service life.

The launch of ReliaGear power distribution equipment comprises the following solutions:

UL 1558-Listed low-voltage switchgear: The switchgear offers a turnkey solution for ANSI C37.20.1-compliant power distribution in a critical application. Emax 2 circuit breaker combines advanced protection, programmable logic, like embedded automatic transfer switch function, full connectivity and comprehensive microgrid energy management in all-in-one revolutionary device.

UL845-Listed low-voltage motor control center: With a unique draw-out mechanism that does not require mechanical shutters, this MCC sets new standards for safety, reliability and operator convenience. It incorporates leading ABB technology such as Emax 2 and Tmax / Tmax XT circuit breakers, ACS-type variable speed drives and PST-type soft starters into a complete type-tested system. Having built-in fast load shedding solution, Emax 2 simplifies the MCC architectures and maximize the plant service continuity. All the circuit breaker and electrical data are managed by ABB Ability™ Electrical Distribution Control System, the new cloud-based platform that enables remote energy monitoring and optimization.

UL 67-Listed SafeT panelboard: With a finger-safe bus stack and plug-in branch devices, this panelboard offers improved safety and greater ease of use. The panelboard uses Tmax and/or Tmax XT MCCBs that occupy up to 30 percent less mounting space than competitor products. This enables an overall reduction in the size of the panel enclosure and the amount of wall space it occupies. Its simple design allows a one-person installation process.

UL 857-Listed busway: The busway is designed to occupy less space and uses less material, making it a more economical and efficient solution.

UL 891-Listed SafeT switchboard: The switchboard design can use Emax 2, Tmax or Tmax XT circuit breakers. The switchboard also features an industry-exclusive finger-safe vertical bus in the distribution section for group-mounted breakers.