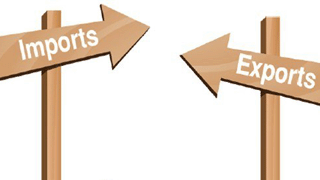 In July, India's crude imports averaged 4.1 mb/d, which is 222 tb/d, or 5%, lower than the level in previous month. India's refinery throughput went down slightly from one month before. On an annual basis, it increased slightly by 24 tb/d, or 1%.

Product imports went up in July by 84 tb/d, or 10%, from a month ago to average 909 tb/d y-o-y, reflecting a gain of 114 tb/d, or 14%, y-o-y. They remain supported by strong demand in the country. The monthly increase in product imports came mainly as a result of higher imports of LPG, while diesel imports went down from the previous month.

India's product exports rose in July by 92 tb/d from the previous month to average 1.4 mb/d, the highest level since March 2017, while they increased by 45 tb/d, or 3%, from a year earlier. Monthly exports of almost all products increased.

Consequentially, India's net imports declined by 230 tb/d to average 3.6 mb/d, which is 6% lower than last month, while they remained 3% higher than a year ago.