Iraq Crude Gas will be Exported to the Brother Kuwait Soon
Source: www.gulfoilandgas.com 9/24/2017, Location: Middle East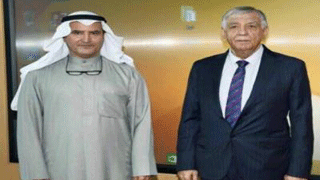 Mr. Jabbar Ali Hussein Al-Luiebi the minister of oil confirmed that the associated technical committee between Iraq & "the brother" Kuwait achieved significant advanced steps… To speed-up the execution of the surplus crude gas exportation agreement from Rumaila field to "the brother" Kuwait.

Mr. Al-Luiebi said that the associated committee completed all the related procedures and it is putting the finishing touches to execute the agreement soon. He said also that the agreement provides for the exportation of (50) MSCF/ day of crude gas from Rumaila field in Basrah during the first phase until reaching (200) MSCF / day during the second phase of the agreement.

In relation with that… Mr. Al-Luiebi welcomed the approval of the Kuwaiti party on the memorandum of understanding which was signed between the Iraqi ministry of oil % the Kuwaiti ministry of petroleum and the issuance of the Amiri decree to approve the chapters of the memorandum about the development and making use of the borderline shared oil fields for the benefit of the both countries. He also considered that as a big accomplishment achieved after decades. This agreement will correct the affairs and fix all the suspended issues between the two countries, as well as contribute to strengthen the bilateral relations between the two countries and increase the opportunities of investment and horizons of associated cooperation.

Mr. Al-Luiebi praised the attitude of the Kuwaiti brothers and their desire to cooperate seriously and harness the available capabilities to support Iraq and its dear citizens.