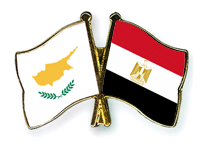 Cyprus is nearing an agreement to sell natural gas to Egypt, marking the second potential supply deal in as many days with the North African country vying to position itself as a regional energy hub after the startup of the giant offshore Zohr field.

Cyprus would supply Egypt from the Aphrodite field, which was discovered by Noble Energy Inc. and contains an estimated 4.5 trillion cubic feet of gas. Noble Energy, with Delek Drilling-LP, said it plans to sell gas to Egypt's Dolphinus Holdings Ltd. from Israel's Tamar and Leviathan deposits. Egypt's government still must approve the proposed 10-year deal for shipments from Israel, the Egyptian oil ministry said Tuesday in an emailed statement.

"Cyprus is close to selling natural gas to Egypt's liquefied natural gas plants, and we could reach an agreement in the coming weeks," Energy Minister Georgios Lakkotrypis said in a telephone interview from Nicosia. The Egyptian LNG plants of Idku and Damietta lie some 400 miles (645 kilometers) south of Cyprus.