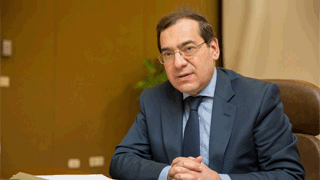 Petroleum Minister Tareq el Mulla had talks with US Assistant State Secretary for Energy Resources Francis R. Fannon on means of promoting cooperation in the oil and natural gas domains in view of ongoing efforts to improve the investment climate.

In a statement, Mulla said the talks tackled the positive development in the Egyptian economy, especially in the petroleum sector under the economic reform program.

He also reviewed the measures adopted over the past four years within the framework of the petroleum action strategy in order to encourage international companies to inject more investments into Egypt.

He highlighted ongoing efforts to turn Egypt into a regional center for petroleum and natural gas trade, considering as pivotal the private sector's role in this regard.

He spelled out the measures adopted to further cooperation with neighboring countries, citing the inking of a cooperation deal with Cyprus to establish a natural gas pipeline.

He also noted that the Eastern Mediterranean Natural Gas Forum will hold its first meeting in Cairo in January as agreed during a recent trilateral Crete summit between Egypt, Cyprus and Greece.

He said the ministry is looking forward to encouraging American companies to invest in the petroleum industrial domain.

US ExxonMobil - the world's largest publicly traded international oil and gas company - has been engaged in a successful partnership with the oil sector for about 115 years, he said, referring also to investments of Honeywell UOP, formerly known as UOP LLC or Universal Oil Products.

Meanwhile, Fannon stressed his country's keenness on enhancing cooperation with Egypt, expanding oil and natural gas projects and supporting regional cooperation in the eastern Mediterranean region.

He lauded the positive development in oil and natural gas sectors over the past years, especially the record time in which Zohr gas field project was accomplished.