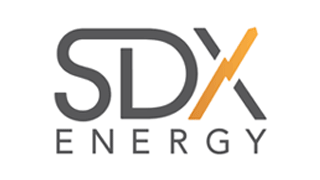 SDX Energy Plc (SDX), the MENA-focused oil and gas company, is pleased to provide an unaudited update on its operating results and cash and liquidity position for the six months ended 30 June 2021. All monetary values are expressed in United States dollars net to the Company unless otherwise stated."

Mark Reid, CEO of SDX, commented:
"It has been a busy period for the Company, with multiple drilling campaigns running in tandem and successful results to show for our efforts already. We are very pleased that our three appraisal/ development wells drilled in Morocco are commercial successes, with two of the wells already connected and producing, contributing to average production of 5,930 boe/d for the period, above our 2021 guidance. The outlook for the remainder of the year is exciting as we look forward to results of the IY-2 step-out development well at South Disouq as well as spudding and drilling the Hanut well, which if successful could provide a transformational resource increase for SDX. We look forward to updating the market on these key catalysts in due course."

Six months to 30 June 2021
Production
- Average entitlement production for the period of c.5,930 boe/d, 3% higher than 2021 mid-point market guidance of 5,770 boe/d.

Morocco and Egypt drilling
- The first phase of the Morocco drilling campaign, which consisted of three appraisal/development wells in SDX's operated Gharb Basin acreage in Morocco (SDX: 75% working interest), was successfully completed in June 2021.

- The OYF-3, KSR-17 and KSR-18 wells were all commercial successes, with OYF-3 and KSR-17 already connected and producing into the Company's infrastructure, with KSR-18 to be tested and connected shortly. Management estimates that 1.5-1.6bcf of gross resources have been added by these wells, which is in line with pre-drill P50 estimates. Preparations are underway for the drilling of up to two additional wells in Morocco later in the year.

- During the first half of the year, the Company received the COVID-19 delayed laboratory analysis of the cuttings and side wall cores from the LMS-2 well. This information confirmed that LMS-2 had successfully encountered the targeted thermogenic gas source that exists in the Top Nappe horizon but that the reservoir in the Lalla Mimouna Nord concession has low permeability and the well is unlikely to flow conventionally. As such, the Company will not risk US$0.5 million testing this well, nor will it commit to further investment in the Lalla Mimouna Nord concession post the end of the concession date in July 2021 as a result of the limited likelihood of it being commercially developed. Accordingly, the Company expects to recognise a US$10.3 million non-cash impairment charge in Q2 ahead of relinquishment, of which US$2.8 million relates to LMS-2.

- In South Disouq, the IY-2 step-out development well, the first of a two-well campaign, was spud in late June with the Company expecting to update the market on its result later in July. The second well, the HA-1X exploration well on the Hanut prospect, is expected to spud after the completion of IY-2 in early August. HA-1X, which is targeting gross unrisked mean recoverable volumes of 139bcf with a 33% chance of success, is expected to take approximately one month to drill and the Company expects to update the market on its result in mid-September.

- In West Gharib, following the ten-year concession extension granted earlier in 2021, preparations continued for a campaign of three to four development wells, the first of which is expected to spud in early Q3.

Capex
- Capex for the six months to 30 June 2021 is shown below and is compared to an updated guidance figure of US$26.5-28.0 million (previous guidance US$25.0-26.5 million)

- Capex guidance for Morocco for the 12 months ended 31 December 2021 has been increased by US$1.5 million as the wells planned for the second phase of the 2021 campaign in the second half of the year are deeper, requiring greater drilling time, than those included in the original guidance. Group 2021 capex guidance is now US$26.5 - 28.0 million.

- H1 2021 expenditure by asset was as follows:
- South Disouq: US$3.7 million of capex for the compressor project (US$1.5 million), the IY-2 development well (US$0.6 million), the completion of the SD-12X tie in (US$0.4 million), planning for the HA-1X exploration well (US$0.2 million), the workovers of SD-4X and SD-1X (US$0.2 million) and other CPF projects.

- West Gharib: US$1.2 million on well workovers and development drilling preparations; and

- Morocco: US$10.9 million on three development wells (US$8.9 million, including US$0.5 million of decommissioning provisions) and a well workover campaign (US$2.0 million).

Cash and liquidity
- Cash and liquidity remains strong with cash as at 30 June 2021 of c.US$9.1 million and the US$10.0 million EBRD credit facility remaining undrawn and available.

· Together with cash generated from operations, the Company is fully funded for all of its planned activities in 2021 and 2022.