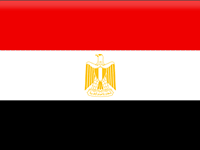 The Minister of International Cooperation, H.E. Dr. Rania A. Al-Mashat met with Heike Harmgart, the European Bank for Reconstruction and Development (EBRD) Managing Director for the Southern and Eastern Mediterranean (SEMED) region. This was in the presence of Khalid Hamza, the EBRD's Director and Head of Egypt, and Dr. Mohamed A. Gawad Allam, Minister plenipotentiary (commercial) and Head of IFIs Sector, at the Ministry of International Cooperation.

The meeting's discussions included potential opportunities for cooperation and joint initiatives during COP27 in November, as well as ways to enhance development cooperation and ongoing projects between both sides, particularly in terms of the "NWFE Program" and private sector engagement.

Al-Mashat shared potential opportunities for cooperation within the "NWFE Program", which covers a list of green government projects in energy, food and water; all aligned with the National Strategy for Climate Change 2050. The program ensures an integrated approach with the country's priority projects, supporting the transition towards a green economy and ensuring increased private sector participation in financing development projects.

Over the past month, several discussions have been held with development partners and multilateral development banks on the "NWFE Program", and this was met with great interest from all relevant stakeholders, opening the door to the country's commitment in going from pledges to implementation.

The Minister also looked into ways to cooperate with the bank in terms of Egypt's COP27 presidency, especially when it comes to increasing green investments in renewable energy, strengthening public-private partnerships, expanding green hydrogen projects, and supporting the state's efforts to reduce harmful emissions.

Early this year, the new Country Strategy between Egypt and the EBRD 2022 - 2027 was launched, focused on three main pillars: promoting a more inclusive economy for Egyptian businesses, women and youth; accelerating Egypt's green economy transition; and enhancing the country's competitiveness by supporting private-sector growth and strengthening governance.

Moreover, Al-Mashat emphasized that the coming period will witness more cooperation with the bank, in line with the 2022 - 2027 country strategy. H.E. also referred to the upcoming Egypt - International Cooperation Forum.

For her part, Harmgart noted the EBRD's commitment to enhancing joint cooperation with the Government of Egypt, especially in light of COP27, in a way that supports the green transformation and enhances climate action plans, via development financing and technical support.

It is worth nothing that ever since the start of the EBRD's operations in Egypt in 2012, the bank has invested more than €8.6 billion in 145 projects in the country, of which over 76% were allocated to the private sector. For three consecutive years; 2018, 2019 and 2020, Egypt was the EBRD's largest country of operations in the Southern and Eastern Mediterranean (SEMED) region.